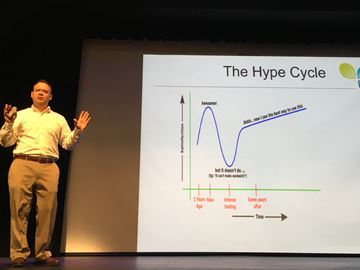 Agriculture and technology expert Peter Gredig can envision a rapidly approaching day when farmers can control most of their operations from their smart phones.
Gredig was at Meaford Hall on Nov. 2 as the keynote speaking at the AG 4.0 Summit and Innovation Tour hosted by Grey County. He is a farmer and the co-founder of AgNition, a company designing agriculture based smart phone apps.
Gredig said the space of technological change in the agricultural community in recent years has been astounding.
"Mobile, mobile, mobile," he said. "I thought the challenge would be farmers getting rid of their flip phones and moving to smart phones. That challenge went very quickly. Now it's, how to drive forward and make the best use of these resources."
Gredig said in 2009 each of his days would start the same: he would have his coffee and sit at a desk looking at a computer ("the box") screen reading his email and going over various reports related to his agricultural endeavours. Now, he has portable devices with him wherever he goes and on his tractors.
"At one time, we saw farmers as CEO with a business approach. They would be in the office by the phone and the fax – remember the fax?" he said. "Now the message is: you shouldn't be there. Get out of there."
He said the "mobile mindset" continues to develop and the pace of change is incredible. He said the new generation never had "the box."
"Their first and only computer was a smart phone. That is the device they use and we have to start thinking that way," he said.
He encouraged farmers to really focus on young people and observe how they interact in the mobile world.
"I have a 15-year-old son. I have learned so much from him and I'm still learning from him. It's a mindset," he said. "You may have to swallow your pride a little bit and it can be a full on eye rolling exercise."
He encouraged farmers to use social media and said there are entire agricultural communities on social media sharing information and techniques.
"Agriculture is hungry for people that can think entrepreneurially and can innovate very accessible technology," he said.